Keiko Fukui's
FLAG WORK HISTORY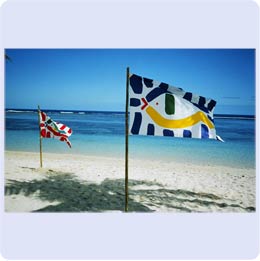 Keiko FUkui SHORT PROFILE
Designing and dye the flags from who's home flag to landmark of the cities.
Continueing to create the flags with aim that spread the flags of the prising human being through the shape of the flags that holding the wind.
Year
resume
1984
Start the flag creating. Hold the Exhibitions at any cities.
1993 - 2001
Open the own shop "FLAGSHOP&GALLERY EA" in Rokko Island, Kobe that as basement of the activity.
2003
Jointed with modern art exhibition in Itary. Started the communication with artists worldwide.
2005
Aichi EXPO2005 Earth Citizen Village FLAG Plan
2006
FLAG WORKSHOP in Brisbane, Australia.
Patagonia project, Argentina.
Prize winning history
Monthly magazine Kobekko memorial Bluemail Award
Kyoto City 1200 years anniversary memorial "Kyoto's culture award Encouragement prize"
year 2003 Takashi Kimura's "cultivate club of Japan's beauty" Encouragement prize