What I'd like to convey through the flag workshop.
When a flag flutters in the wind, close your eyes, listen to the flag's sound, feel the wind stroke your cheek.
I am the air, flowing anywhere on Earth, its song whispers that I am part of all of life on Earth. Now, I sing the song to the Earth.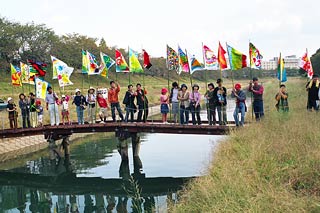 Workshop at town around Okayama Castle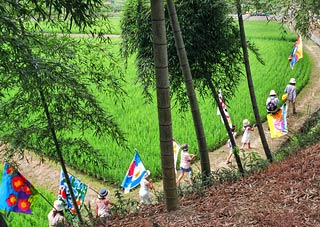 Shimbi Town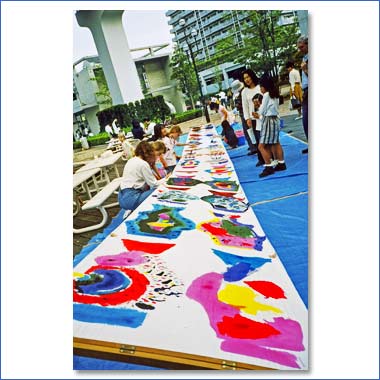 Understanding each other, we can sing together for peace in this world. At the Workshop, we parade through town carrying the flags to show the stream air, to find the fun thing in the town and trying to make communication with residents.
Year
Log
1993 -
Rokko Island "hand dyeing Koinobori"
1998 - 2001
Hida International School of Craft & Design Summer School "Dye the wind"
1999
The Museum of Arts & Crafts Itami "Let's draw my flag"
Made flag for the art event "People · Town · Art Nara"
2000
Mie prefectural museum "Discover my village, my town" with children in Shirako Town
Fuji-Xerox, Dandelion House Foundation Art Supporter Seminar
2001
"Flower · Port · KOBE" Koinobori workshop
Miyazaki City Donkoya Art Seminar Aoshima Flag parade & exhibition in the town
Sayama Citizen hall, Osaka "Flag making & Parade" Samaya pond dam museum
"Able Art Kinki" Flag making and parade at the ground of the Honnoh elementary school, Kyoto
2002
Hatsukaichi, Hirhosima "Fukui Cultural Seminor" Flag making & Parade
Peace Osaka "Kids workshop & parade at Osaka castle"
Heart Art · Okayama Flag workshop & parade at Okayama Castle
Sinbi town, Okayama Prefecture "workshop for the children"
made flags for "Aichi EXPO'05 Able · Art" with children
2006
Made "Five flowers flag" at Brisbane Australia